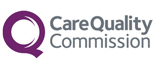 Read all about our latest CQC inspection here, but this is the summary:
Are services safe, effective, caring, responsive and well lead? 

We found that SurreyGP was providing safe, effective, caring responsive and well lead services in accordance with the relevant regulations.
Two CQC inspectors came for 10 hours in December 2017 to go through our systems, paperwork, records, medical equipment; you name it, they inspected it. This time there are no approval ratings available for private practices, just those important words in italics above.
SurreyGP; in our tenth year, registered with the CQC, undergone two inspections post registration inspection, record feedback ratings – leading not following!