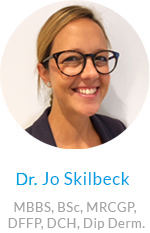 As the UK begins to think about getting back on its feet, we're ready and ahead of the curve.
Dr Skilbeck is consulting every day and will be in surgery and using Skype or Telephone to enable consultations to take place.
Book Online or Call 01483 230481 to see her – it's easy and is effective.
We can dispense medications using our unique Consult and Collect service. or we can post out prescriptions – but rest assured we will do everything to ensure that you get your medications promptly.